"They said it wasn't traditional enough!
-GOOD!
They said it wasn't yoga.
- I said DEFINE YOGA.
They said don't use this word and don't move your hips that way.
- WE DID!

This is the movement of WE and it brings each of us closer to realizing that we are souls living inside of a human skin and the human skin is IRRELEVANT. What it looks like, how it's different, what body we chose this time around the sun - DOESN'T MATTER. Your job is to wake up, SHAKE, integrate your spiritual intelligence and heal the world - not continue to divide it."/ BUTI YOGA
HÖST 2021 VELLINGE
Måndag 18,00 BUTI YOGA "Heat" 12ggr 13/9- 6/12
TISDAG 19,15 BUTI YOGA "POWER" 12ggr 14/9- 7/12 FULLBOKAD
Plats: Vanningen lilla salen
Pris:
1 kurs -1200kr
Drop in- 150kr i mån av plats
HÖSTTERMINEN I LUND "TRÄNA PÅ IDEON"
Torsdag 11,20 BUTIYOGA 45min
>> NYHET! PROVA PÅ BUTIYOGA 4 veckor <<
Under 4 veckor går vi igenom grunderna samtidigt som du får en effektiv och intensiv träning vid varje tillfälle. Inga förkunskaper krävs!
Måndagar kl 19.15 60min 18/10- 8/11 (möjlighet till förlängning finns)
Pris: 500kr
Max antal 12 personer
Plats: Vanningen Vellinge

vill du köra buti yoga där du bor? Hör av dig!
Passar perfekt på den aktiva tjejkvällen, AW:n eller som en kick-off!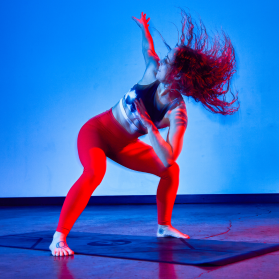 WHAT IS BUTI YOGA?
All Buti formats incorporate spiral structure technique® used to activate our deep core muscles paired with intentional shaking & vibration to release trauma stored at the cellular level.
Primal movement, cardio dance + conditioning are seamlessly woven throughout balanced yoga sequencing to give you an ALL-IN-ONE workout that helps you transform your BODY + SOUL.

he Bonus? You'll burn 600-1000 calories per class doing it.
(BUTIYOGA.com)